Nigerian Newspapers Daily Front Pages Review | Sunday, 14 November, 2021 – Naija News
Published
on
By
The budget for the 2023 general elections may exceed N350bn as against the N242bn budgeted for the 2019 elections.
This, according to findings by Sunday PUNCH, is due to inflation, currency devaluation, insecurity, cost of monitoring the direct primary made mandatory in the Electoral Act amendment Bill 2021 and procurement of new technology, like the newly introduced Bimodal Voter Accreditation System used for the Anambra State governorship election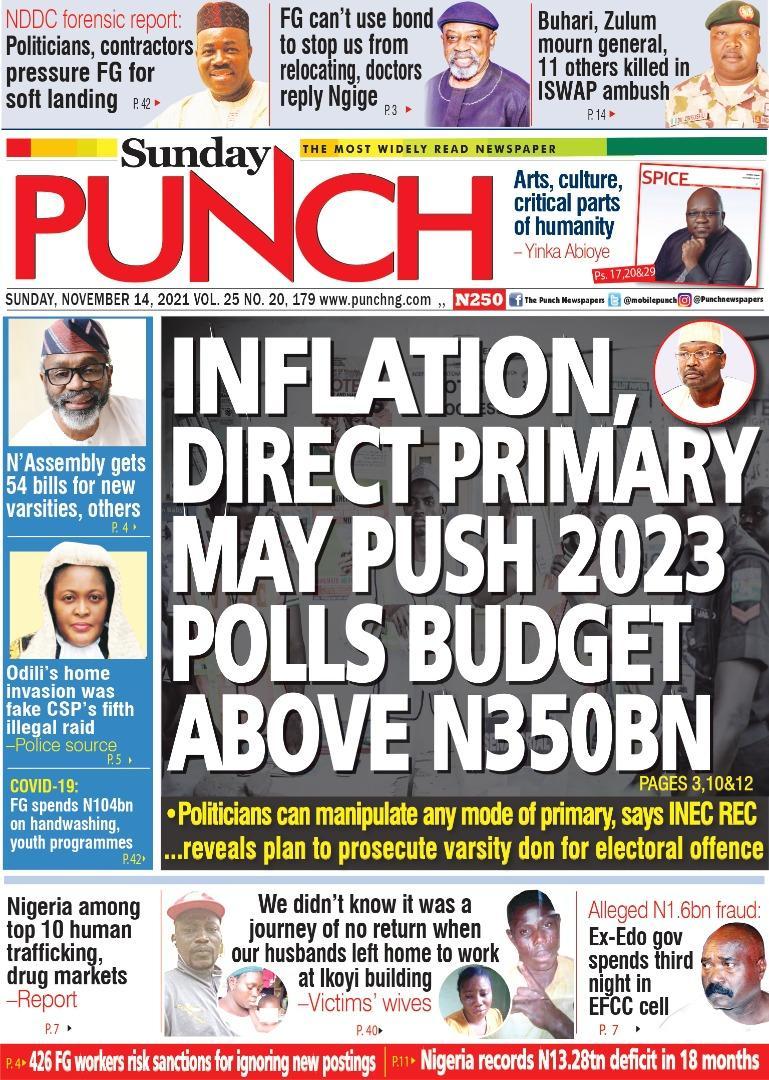 As the world, today, marks the World Diabetes Day (WDD), experts are worried that no fewer than six million Nigerians – one in ten adults – are living with diabetes, even as the numbers are expected to double by 2030, with the nation facing a situation akin to a "ticking time bomb." The Guardian reports.


Following the rejection of direct primary mode of electing candidates for elections by state governors, the battle has shifted to Aso Rock where parties are pushing to get President Muhammadu Buhari do their bidding. Will President Buhari succumb to the lobbying by governors or stand by the parliament? Vanguard asks.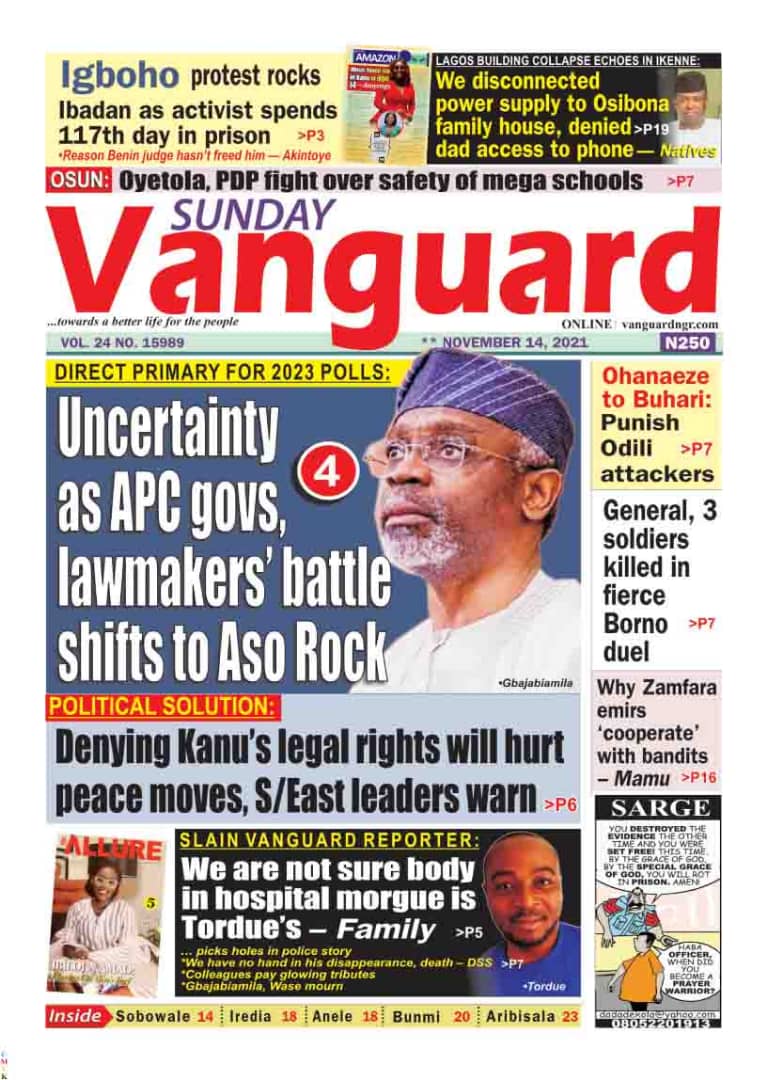 In a first of its kind since the more than a decade-old insurgency war started, the Nigerian Army yesterday lost a Brigadier-General commanding a Special Forces team, in an ambush by terrorists of the Islamic State of West Africa Province (ISWAP) in Borno State, This Day reports.


Tragedy struck on Saturday when terrorists loyal to Islamic State West Africa Province (ISWAP) killed a brigadier general and some soldiers in Borno State, Daily Trust reports, during a confrontation with Nigerian troops, who battled to avert attack by the terrorists.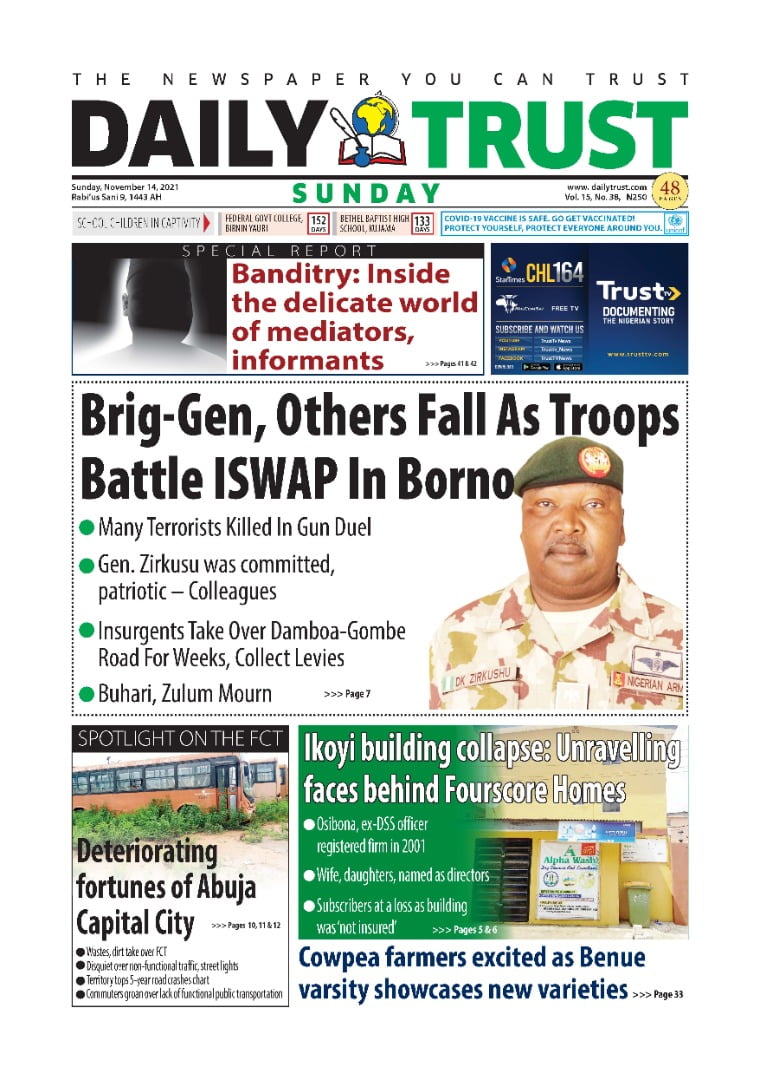 It is now fairly obvi­ous that relentless in­trigues among the pow­er blocs that make up the ruling All Progressives Congress (APC) are snow­balling into self-consuming designs in the party ahead of the 2023 elections, Sunday Independent reports.


Thank you for reading, that all for today, see you again tomorrow for a review of Nigerian newspapers.
George Oshogwe Ogbolu is a Digital Media Strategist | Content Writer | Journalist | New Media Influencer | Proofreader and a Deputy Editor at Naija News.
Copyright © 2021 Naija News. All rights reserved.