Nigerian Newspapers Daily Front Pages Review | Sunday, 10 October, 2021 – Naija News
Published
on
By
Foreign airlines operating in Nigeria have begun moves to restrict the number of ticket they sell on Nigerian routes amid dollar scarcity crisis, PUNCH reports.


In comparison with South Africa and Egypt, Nigeria's 2022 budget lacks the necessary creativity, freshness and sincerity to pull the economy out of the woods, Guardian says.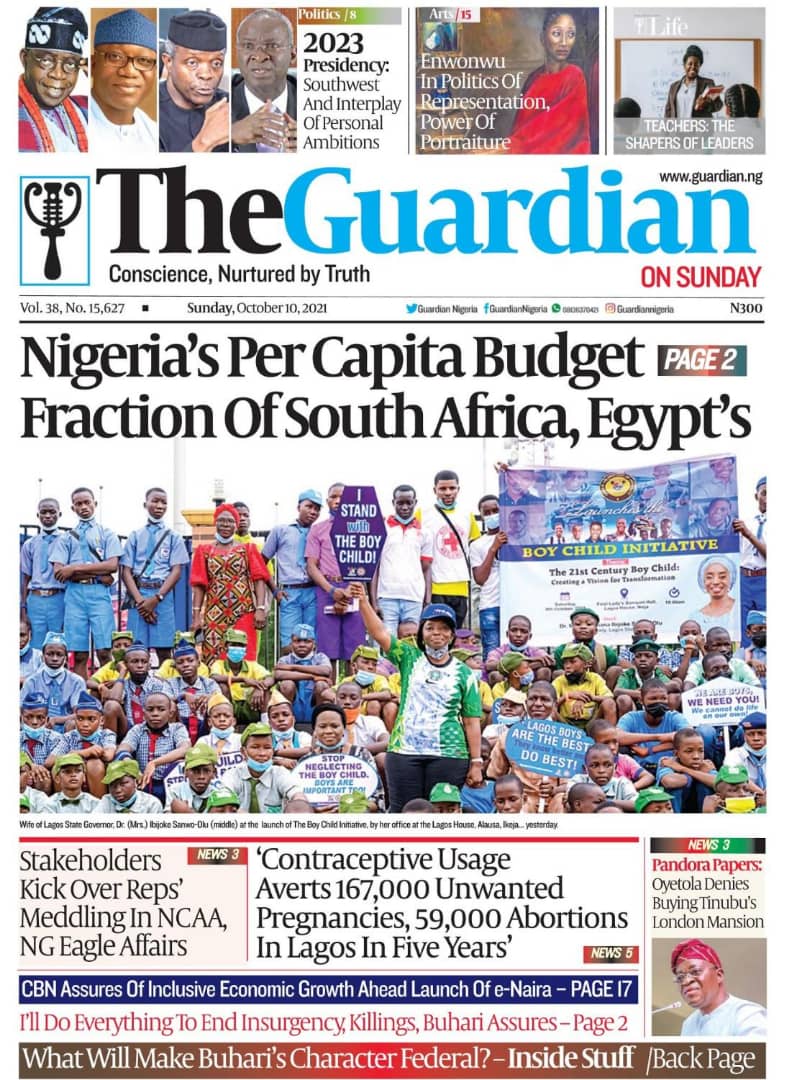 ThisDay reports that as the October 30/31 date scheduled for the PDP national convention draws nearer, the Northern caucus may be eyeing a consensus candidate for the position of national chairman.


As the PDP concentrates on getting a northern chairman to pilot it's affairs for the next four years, some southern leaders are already plotting on who should fly the party's flag in the 2023 presidential election, The Nation reports today.


Despite the anti-open grazing law passed in practically all states in southern Nigeria, Fulani Herdsmen still graze openly as enforcement of such laws are yet to kick start. Sunday SUN reports.


Former VP Atiku and his aides have come out strongly to kick against the zoning of the 2023 presidency but PDP governors have insisted that that chapter is already closed, according to Leadership.


From Buhari to AGF Malami to EFCC's Bawa to Femi Adesina and many others, the federal government know those sponsoring terrorism. Nigerians have now asked the Buhari administration to name them or keep quiet. Independent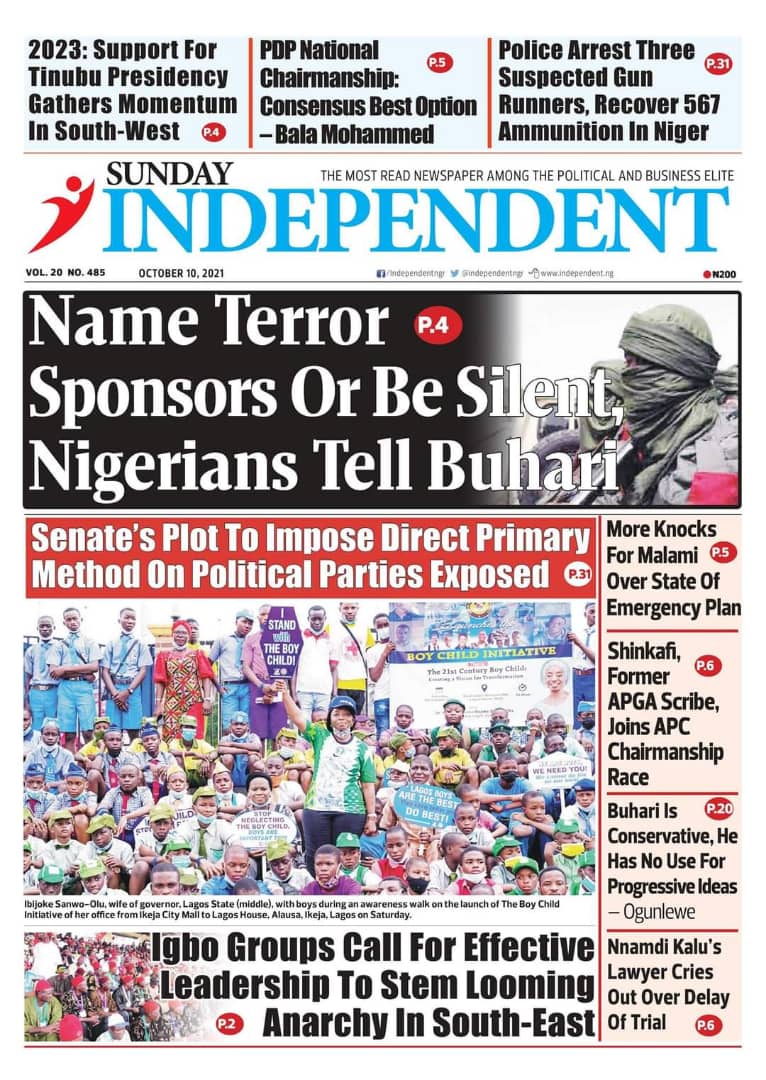 Direct/Indirect option: Crisis brewing among APC, PDP National Assembly members over Conference Committee's report on the Electoral Act 2016 (Amendment) Bill, 2021, according to Tribune


First News reports today that a group pushing for Vice President Yemi Osinbajo to succeed President Muhammadu Buhari in 2023 has gotten the endorsement of the APC national leadership.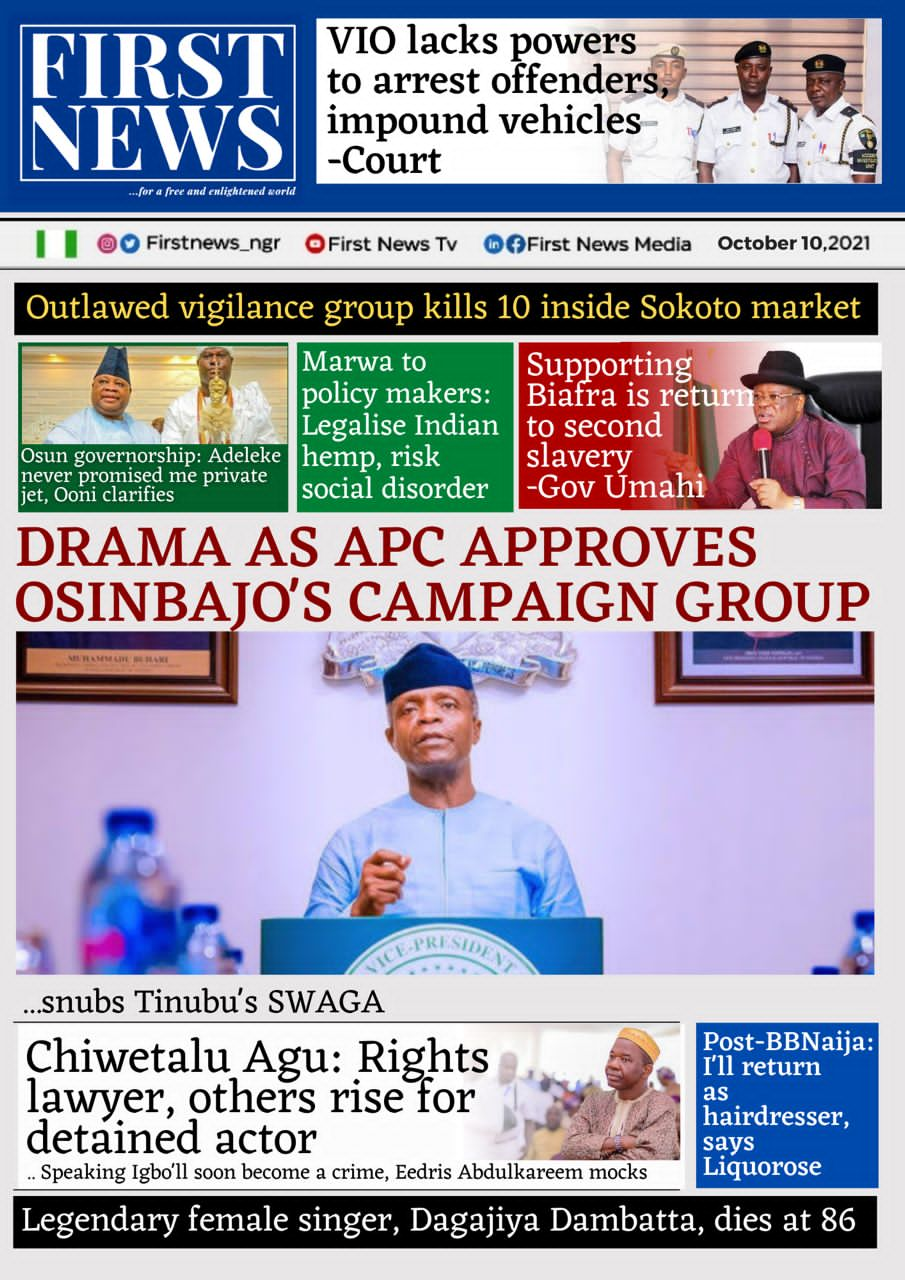 Business Day reports on the insecurity rocking the southeast region which used to be very peaceful, as governors scramble to get it under control.


Thank you for reading, that all for today, see you again tomorrow for a review of Nigerian newspapers.
George Oshogwe Ogbolu is a Digital Media Strategist | Content Writer | Journalist | New Media Influencer | Proofreader and a Deputy Editor at Naija News.
President Buhari Identifies Projects He Must Complete Before He Leaves In 2023
'I Was Once Like You' – Gani Adams Reacts As Sunday Igboho Marks Birthday In Prison
Full List Of All Nigeria Super Eagles Coaches Since 1949
2023 Elections: Don't Create Another Problem For Nigeria – Saraki Begs National Assembly
Biafra/Yoruba Nation: Nigeria's Unity Not Negotiable – Boss Mustapha
Nigerian Newspapers Daily Front Pages Review | Monday, 11 October, 2021
Copyright © 2021 Naija News. All rights reserved.